Regular price
Rs. 300.00
Sale price
Rs. 300.00
Unit price
per
Sale
Sold out
Share
Pichora's Purple Clay+ Oatmeal Face cleanser, carefully crafted with the power of Brazilian purple clay and oats to offer you a truly indulgent skincare experience. This unique formula combines the benefits of these two exceptional ingredients with Lavender Essential oil, delivering a gentle yet effective cleansing ritual that will leave your skin feeling refreshed, rejuvenated, and radiant.

Brazilian Purple clay cleanses, and also  provides a gentle exfoliation, removing dead skin cells and promoting a smoother, more luminous complexion. Its natural ability to improve skin elasticity ensures a youthful and supple appearance.Oats have long been celebrated for their soothing and nourishing qualities. Ground into a fine powder, oats gently cleanse the skin without disrupting its delicate balance. As you massage the cleanser onto your skin, the oats release their natural cleansing agents, removing dirt and grime, while simultaneously replenishing moisture and protecting the skin's barrier function. With its anti-inflammatory properties, oats are particularly beneficial for sensitive or irritated skin, leaving it feeling calm and refreshed.
As you apply the cleanser, you will notice its velvety texture gliding effortlessly across your skin, enveloping you in a gentle embrace. Take a moment to breathe the freshness of Lavender in the subtle, soothing aroma that accompanies each application, allowing yourself to unwind and immerse in a truly sensorial experience.
Pichora's Purple Clay+ Oatmeal face cleanser is meticulously handcrafted in small batches to ensure the highest quality and potency. We believe in harnessing the power of nature, free from harsh chemicals and artificial additives. Embrace this luxurious blend of Brazilian purple clay and oats, and unlock the secret to beautifully cleansed and nourished skin, naturally.

How to use:
To use, simply apply a small amount of the cleanser to your dampened skin, massaging it in circular motions. Feel the exquisite blend of Brazilian purple clay and oats working their magic, purifying and revitalizing your skin. Allow the cleanser to sit for a few minutes, allowing the ingredients to penetrate deeply and reveal their full potential. Rinse thoroughly with lukewarm water, and as you pat your skin dry, revel in the newfound freshness and radiance that awaits.
 Reasons to love: 
Easy to carry

No harsh chemicals 

Safe for all skin types

Deep cleansing 

Refreshing fragrance 

Paraben and sulphate free

Cruelty free

Vegan
Ingredients: 
Brazilian purple clay, colloidal oats,Kaolin Clay , Sodium Cocoyl Isethyonate (coconut derived mild surfactant). 
Important Note: Keep away from sunlight, moisture and damp places. We recommend conducting a patch test before starting regular use of any product. Stop using the products immediately if irritation occurs.
View full details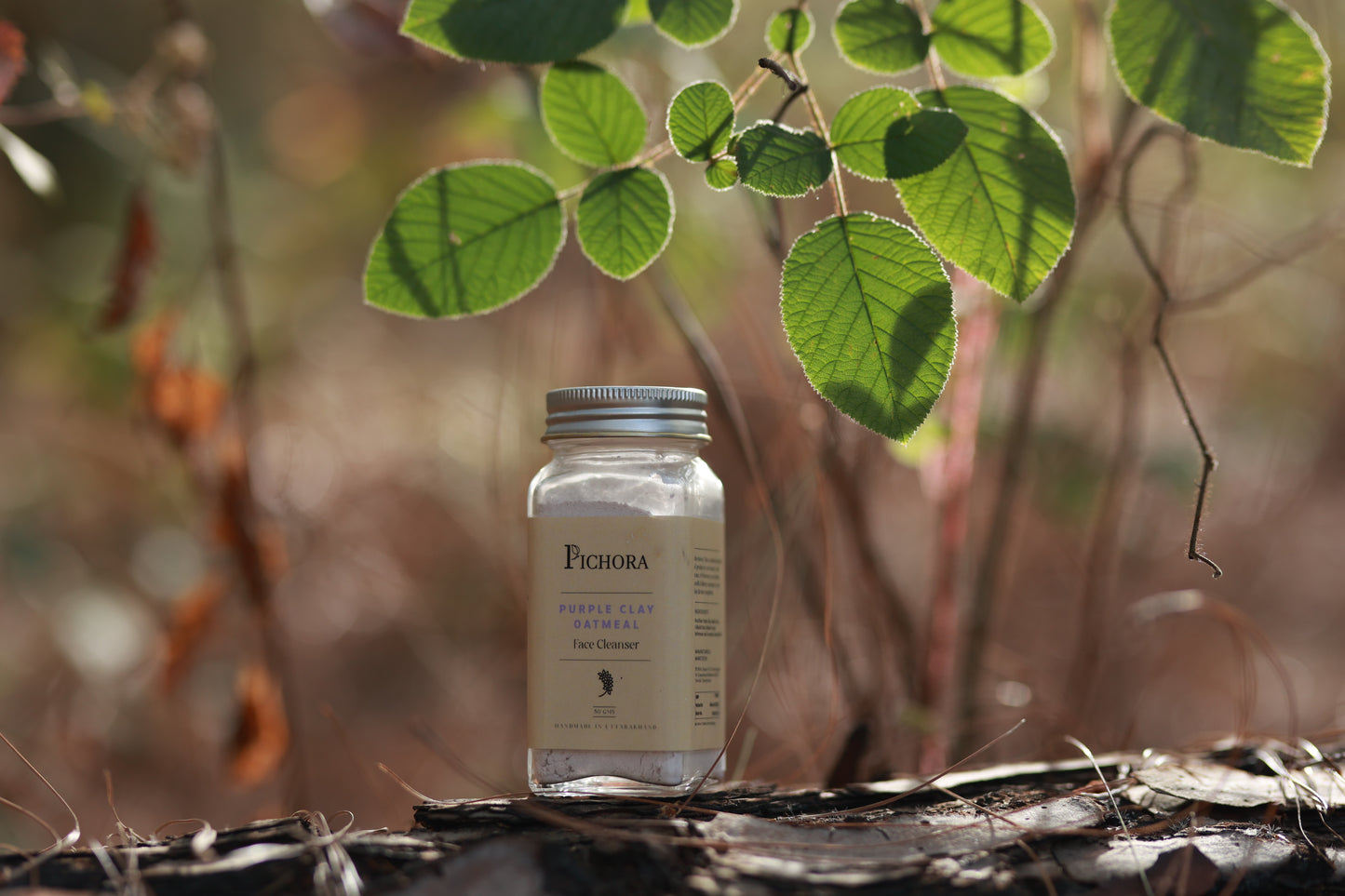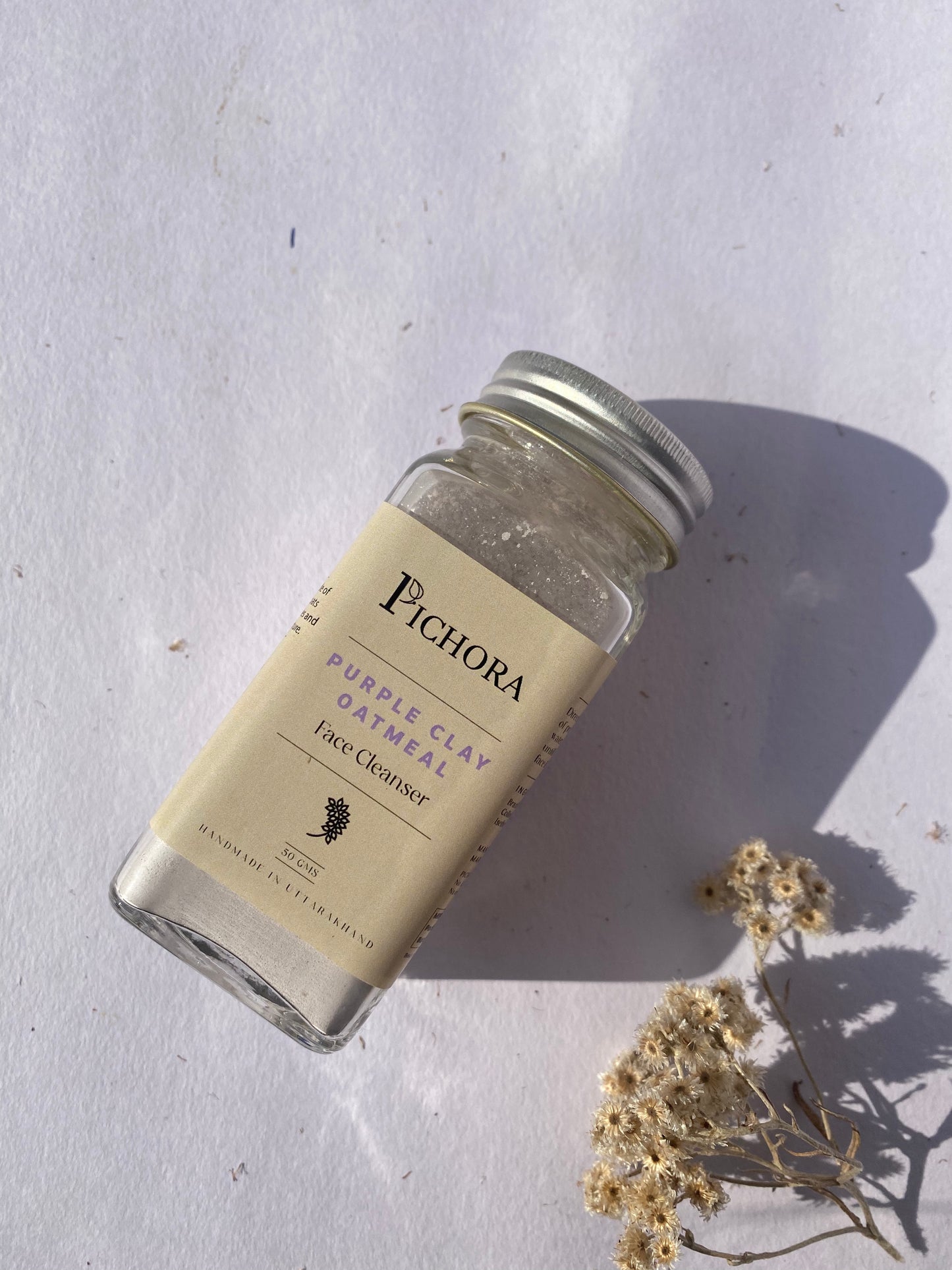 Best product for oily skin
I've been using this product for over a year now. It's the best product for oily and acne prone skin. My acne is almost gone now and my skin feels soft everytime I use it. The scent is a bonus point.
A must for acne prone skin
I had a lots of acne issue with my skin during summers. I started using the product mid May and clearly see the results after two weeks. Now skin feels soft , shiny and supple. It has miraculously remove the acne. Also over this period of I have also noticed the acne mark getting disappear.
Do recommend this if you have oily skin.💜
Amazing
It's an amazing product. After using purple clay oatmeal face cleanser my skin feels soft and shiny and it suits all skin type too
Wonderful
I recently tried this purple clay cleanser and I must say it has exceeded my expectations. The gentleness of face wash is remarkable and it smoothens our skin as well. Also its fragrance free. Hence, I would highly recommend purple clay+oatmeal cleanser for acne
Awesome
I have been using this product from last one month and I must say this is the product which I was searching for.
After using this, it gives a very smooth skin.
All thanks to PICHORA for the Purple Clay + Oats Facial Cleanser.