Regular price
Rs. 300.00
Sale price
Rs. 300.00
Unit price
per
Sale
Sold out
Share
Introducing our revitalizing Coffee Scrub, a luxurious skincare treatment designed to awaken your senses and invigorate your skin. Made with premium coffee grounds, sugar and a blend of nourishing ingredients, our coffee and sugar scrub offers a multitude of benefits for your skin.
Coffee has the ability to dissolve Cellulite. Caffeine delivers a burst of antioxidants that repair and prevent photoaging (sun damage), boosting collagen production. Sugar has natural AHAs that help in improving skin texture and dark spots on the face. It helps in fading dark spots and reduces the visible signs of ageing. We recommend using the scrub twice a week for best results. That way the jar lasts a month.
How to Use:
Wet your skin with warm water.
Take a generous amount of the coffee scrub and gently massage it onto your skin in circular motions.
Focus on areas that require extra attention, such as elbows, knees, and any dry patches.
Leave the scrub on your skin for a few minutes to allow the beneficial ingredients to work their magic.
Rinse off thoroughly with water, then pat dry.
Follow up with a moisturizer to lock in hydration and further enhance the benefits of the coffee scrub.
Precautions:
Avoid using the coffee scrub on broken or irritated skin.
Perform a patch test before use, especially if you have sensitive skin, to ensure there are no adverse reactions.
Due to the exfoliating nature of the scrub, limit use to 2-3 times a week to prevent over-exfoliation.
Indulge in the sensory delight of our Coffee Scrub and experience the rejuvenating benefits it brings to your skin. Let the rich aroma and luxurious texture transform your skincare routine into a pampering ritual that leaves your skin beautifully smooth, radiant, and ready to face the day.
Important Note: Keep away from sunlight, moisture and damp places. We recommend conducting a patch test before starting regular use of any product. Stop using the products immediately if irritation occurs.
View full details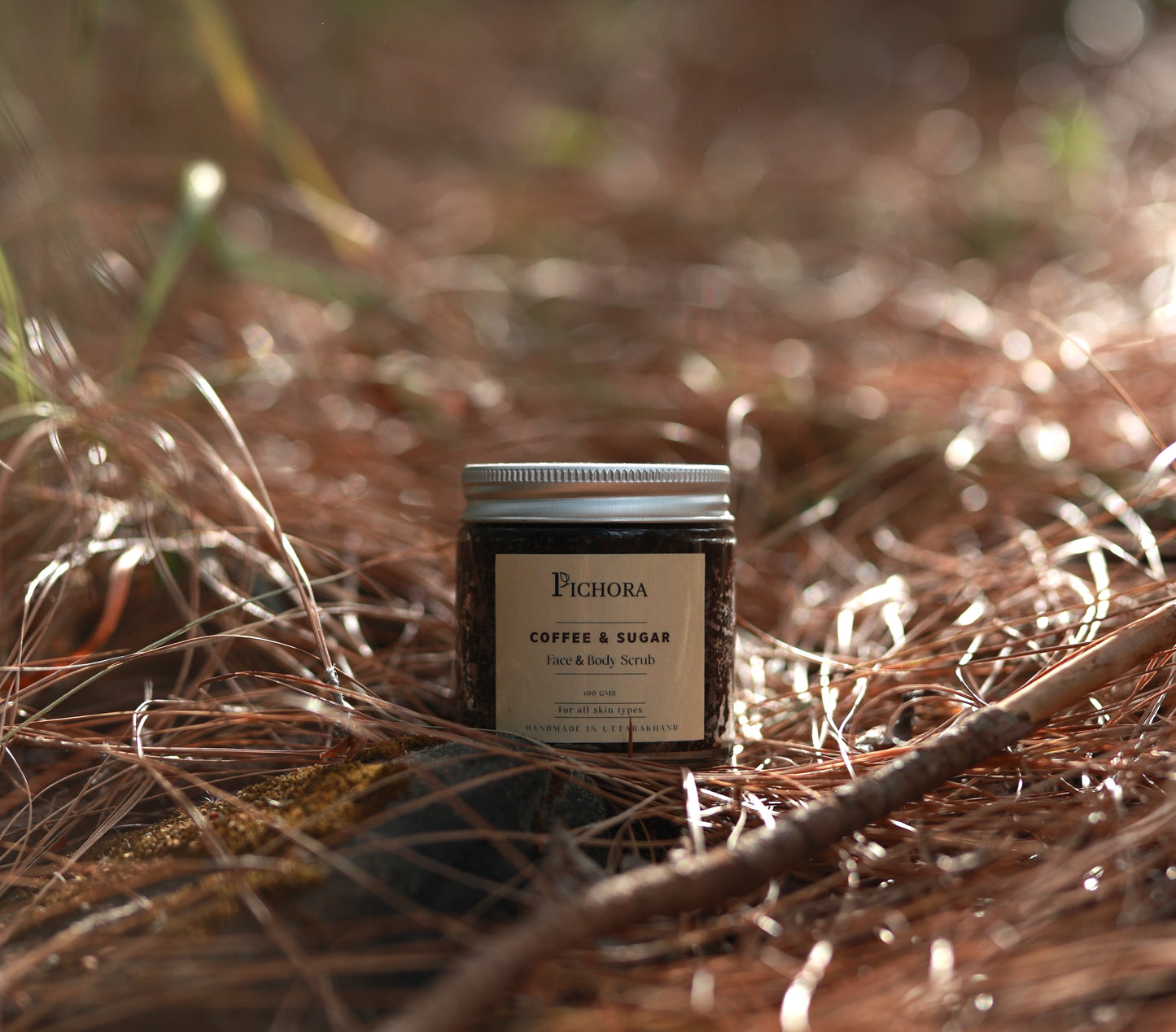 For that baby soft skin
I ordered coffe & sugar scrub as I'm shifting to sustainable products in daily essentials category, and I can vouch that I ain't looking any further for better options now. The coffe & sugar scrub will literally make your skin baby soft. Clubbed with purple clay face cleaner, you can have the most soft, fragrant and stubble skin that will last throughout the day
The best scrub ever!
The coffee scrub by pichora is truly the best I've ever used. Leaves my skin feeling hydrated.
awesome product
It's really very useful to remove tan and dead cells on skin I'm using it 💯 satisfied.... very simple and super easy to use... Best one so far..
Amazing
I really like the texture and how it feels on my skin, very refreshing and does the work brilliantly ❤️
10 stars out of 5
gentle on the skin 🌼
skin feels smooth after using this scrub..I have been using it for months now... amazing results ✨